Join us for lunch or dinner and relax while sitting along the soothing Indian River Bay under our tropical palm trees all while listening to Caribbean music and enjoying some fantastic food!  We have a menu fit for everyone, from the kids and up! It is our goal to provide you with the highest quality of food and service while you sit back and imagine yourself in the islands!  Whatever our beach bums are in the mood for, we have it from appetizers and drinks, sandwiches and salads, steamed seafood, a mouthwatering burger or crabcake, or one of our amazing entrees, we have it all!  Come dine with us, where you can feel like you are on vacation, every time!
Our lagoon bar is a place to kick back under the shad, grab a cool drink and great food, and watch the boats float into the lagoon!  Here you can catch an acoustic band on the Lagoon stage or dance the night away on our Lagoon Dance Floor!  In town on a fishing trip?  This is also the place to be if you want to witness some of the biggest flounder Delaware and surrounding waters have to offer at the scales located on the Lagoon Stage!  Our bay tournament is July 15, 2017 and the Flounder Pounder Open is August 18-20, 2017 so make sure to grab seats early!  You can also check out our Lagoon Stage on our new webcam LIVE!
We feel the title of this area explains itself but we can paint the picture for you!  Imagine kicking your shoes off at the gates, grabbing a refreshing orange crush from our tiki hut bars, sitting in the shade of palm trees, and listening to our amazing bands rocking on the Paradise Live stage!  Don't believe us, check out our beach webcam!!!
We are all about having a good time and providing you with some of the best entertainment at the beach!  With our acoustic sound engineered stage and an amazing light show set up, we make Paradise entertainment something you do not want to miss!  We have all different types of entertainment here at Paradise to surely meet your taste and enjoyment!  Bring your friends and kids and catch a live show on a summer night on the Indian River bay!
The Paradise Raw Bar is happy to serve you with the freshest seafood the eastern shore has to offer!  While your oysters are being shucked right in from of you, listen to one of our awesome acoustic groups playing directly on our lagoon!   Our Paradise Raw Bar menu offers a wide variety of delicious oysters and steamed seafood! Dock and dine just a few feet from your boat and come chill with us!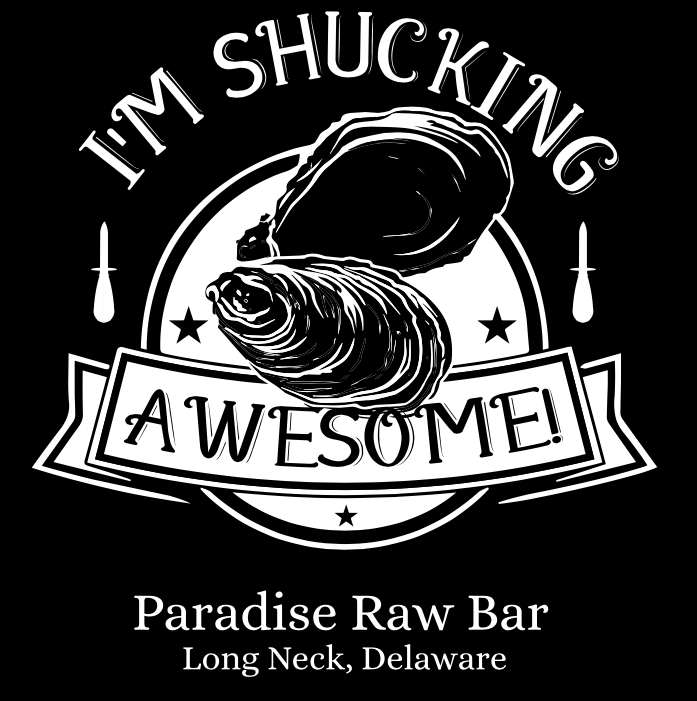 The Paradise Marina is a full-service marina providing gas, bait & tackle, marine needs, fishing apparel, snacks, and much more!  We have 82 boat slips for you to tie up and come on in!  Boat Us Members receive $.10 off per gallon here at the Paradise Marina where we always have competitive prices across the board.  So stop on by and visit the home of the Flounder Pounder Open, the world's largest flounder tournament! Fish On!
What better way to cool down on a hot summer day than with some delicious Hershey and Hopkins Dairy Farm Creamery ice-cream!  We have tons of flavors and toppings to surely fit your taste buds! Stop by our Ice-cream Shack so we can make your day a little bit sweeter!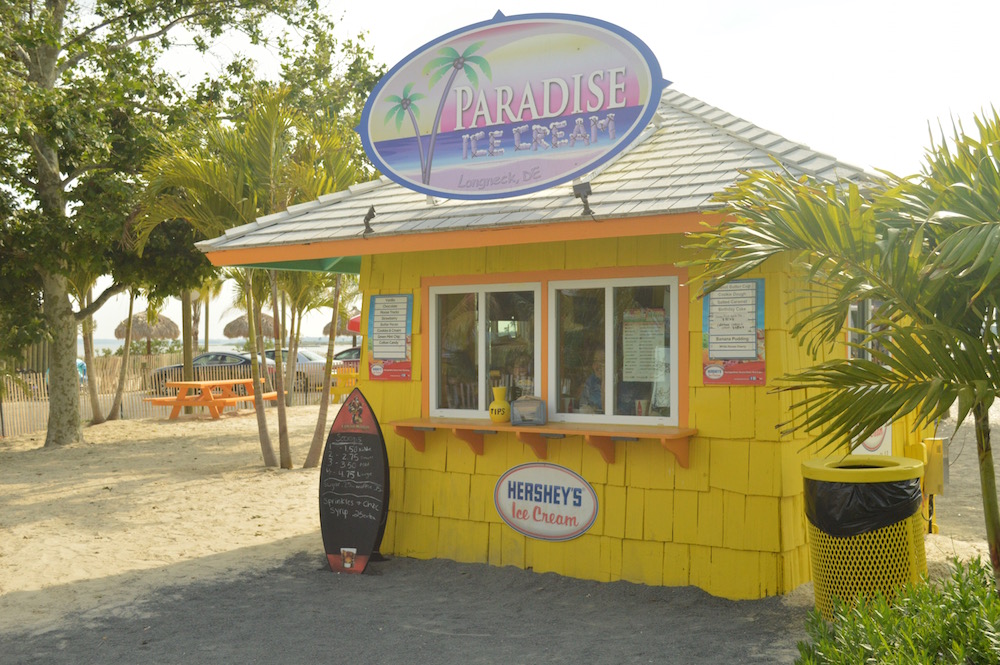 We are all about the beach life and what screams beach more than funnel Cakes?   And we have them right here at Paradise in our Funnel Cake Shack!  We also run yummy specials like fried Oreos, fried chocolate chip cookies, soft pretzels, and much more!  Curb your sweet tooth with our warm funnel cakes topped with white powdered sugar!  The ultimate sweetness craving can be cured with a warm funnel cake topped with a scoop of your favorite ice-cream on top!  Mmm-mmm good!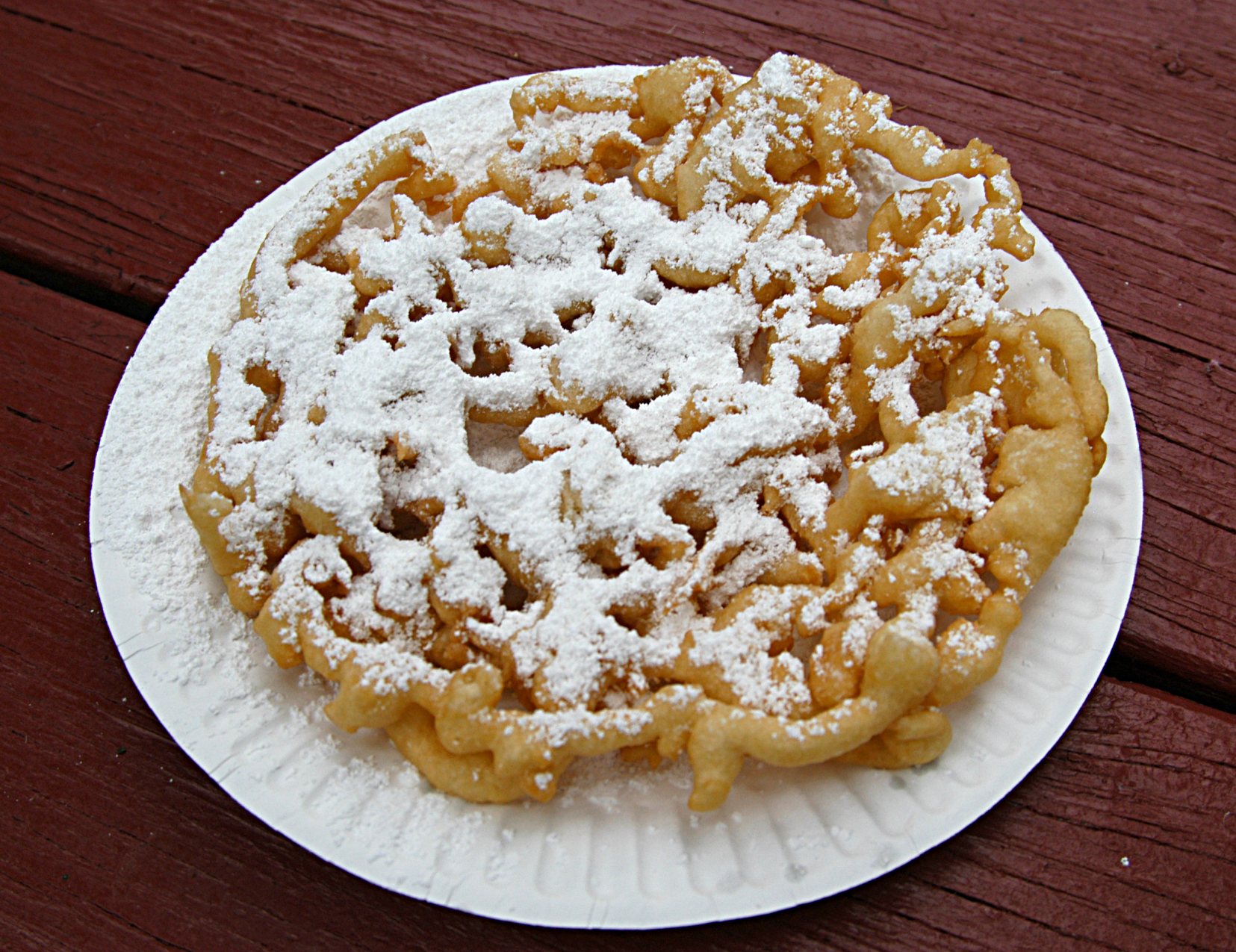 We take pride in providing a fun, family oriented atmosphere here at Paradise!  We want the kids to have as much fun as possible!  We have our own newly built playground here as well as a 2-story pirate ship!  Both are over white fluffy sand making the best sandboxes around town!  Paradise is a place where kids and adults can play in the sun so make sure to check out our events page for the kid's events throughout the season as well!  We have carnival games, blow up castles, and much more in store for you this season!  Feel free to join the kids as well, you can adult tomorrow!
Many believe the best seats in the house are on our very own Paradise Beach, we will let you decide!   Enjoy a freshly squeezed orange crush while watching boats cruise by, listening to the waves roll in under palm trees and the sun, and then catching the sun set!  Here you can enjoy watching one of our awesome bands while the kids enjoy playing in the sand or the playground!  And what better way to cool down in the summer than a nice dip in the bay!